---
IMCO Worlds Race Day 5
Posted On: 19/09/2003 15:58:25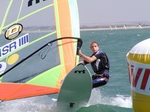 Back on the racing course Levante winds were blowing once again with 20/25 knots.
The men's gold and women's fleet were sent offshore on time to get the races starting.
The men were the first one's to start and it was Alexander Baronjan (GER7) who rounded the top mark in first position speeding away ahead of the fleet on the reach. But it was Przemek Miarczynski (POL125) who dominated the the racing day with two bullets. So he remains the lead now with an amazing record of 7 firsts out of 8 races and is leading now by 22 points to Joao Rodrigues in second overall and 27 points European Champion Julien Bontemps in third.
Meanwhile on the women's course heavy wind specialists Lee Korsitz (ISR1111), Allison Shreeve (AUS911) and Barbara Kendall (NZL15) dominated the fleetin both races . Lee Korsitz is leading now by 8 points to Allison Shreeve and 14 points to Barbara Kendall.
For further results check out http://www.cadizworlds2003.com/